You can have 2 Gisborne Net email addresses at no additional cost.
The format of Gisborne Net addresses is yourname@gisborne.net.nz.
To set up a new address, please email support@gisborne.net.nz with the username and password you require.
You can access your emails from anywhere by entering your login details here:  http://webmail.gisborne.net.nz/src/login.php
Setting up Gisborne Net email
To configure your email client for Gisborne Net email use the following settings:
Server/Account Type is POP3
Incoming POP3 Server address is bob.gisborne.net.nz
Port 110
202.27.212.66
Account name and password required
No SSL
Outgoing SMTP Server address is
send.gisborne.net.nz
Port 587
202.27.212.9
Account name/password as for incoming server
No SSL
How to set up Gisborne Net email on your Windows phone
Use this link http://www.windowsphone.com/en-us/how-to/wp7/people/set-up-an-email-account
Scroll down to this section: To enter email account settings manually (advanced)
Use the settings above.
How to set up Gisborne Net email on Windows 10
The Mail App in Windows 10 supports POP email. This is the protocol used by Gisborne Net's email servers.
To set up email you will need to know your Gisborne net email address and your password.
Open the mail app (left click on the Windows button bottom left of your screen and select Mail.)
Click on 'Lets Get Started' and then 'Add Account'
On the 'Choose Account' dialogue, select 'Advanced Setup'
Select Internet Mail.
Enter your account name – eg 'Joe Bloggs Mail"
Enter your name – eg' Joseph H Bloggs'
Enter the incoming mail server: bob.gisborne.net.nz
Select POP3 as your Account Type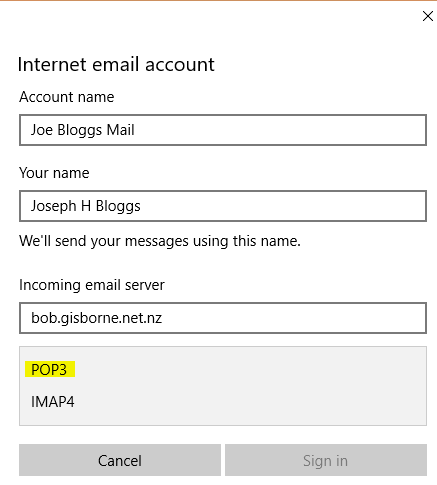 Scroll down and enter your email address – eg  joeb@gisborne.net.nz
Enter your user name – eg  joeb
Enter your password
Enter the Outgoing Mail Server: send.gisborne.net.nz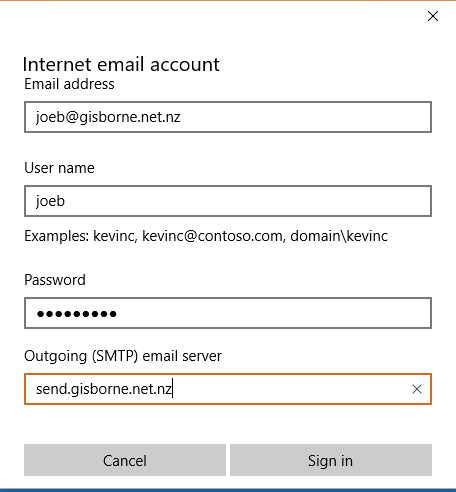 Scroll down and untick the two SSL check boxes. Leave the top two checked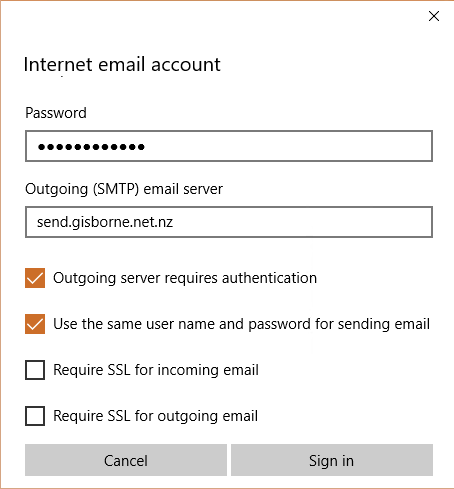 Click on Sign inYou'll receive a message to say the account was set up successfully. Click on the Done Button and you're ready to go.Mail Server information:Incoming POP3 Mail Server:        bob.gisborne.net.nz       (Port 25)
Outgoing SMTP Mail Server:       send.gisborne.net.nz     (Port 587)